[ad_1]

Chad 'Ochocinco' Johnson Speaks On Financial Decisions Made To Save '83%' Of NFL Salary: 'Never Bought Real Anything When I Was Playing'
Athletes are known to spend their money on expensive cars, jewelry, and women, but Chad Johnson thinks that's a rookie mistake.
In a recent interview with former NFL player Shannon Sharpe, Chad 'Ochocinco' Johnson detailed smart money decisions he made during his professional football career and financial moves he still keeps up with today. After Shannon Sharpe asked him his opinion on flying private, Chad Johnson revealed: 
"I ain't flying private. Put me on Spirit, exit row, window seat. That's all I need. Long as I get from point A to point B, I don't need private."
Johnson advised:
"Athletes, more so, if you can get to a point in your career where your name becomes bigger than anything you can purchase, there's your value. My name, itself, Ochocino, at one point, even still to this day, is bigger than [anything I can buy.]"
The 45-year-old continued:
"Why am I driving a Ferrari? Why am I driving a Rolls Royce and I'm Ocho? We talk about jewelry, and watches, and chains. [I] Never bought real anything when I was playing. Never. What was the point? I went to Claires."
He admitted:
"What am I doing it for? The women gon' deal with you anyway 'cause of who you are. Then the other women, who really doing their homework, done googled how much you're making already. Why am I buying a $50,000 watch, $80,000 watch?"
Johnson asked Shannon Sharpe, 54, for the time to prove his point that luxury items aren't needed to get by in life. After noting that Sharpe told him the time for free he added,
"There's nothing I can buy that's bigger than my name alone, so it made no sense. But everybody's caught up in image, and looking a certain way, and being rich, it's me. It's pointless. You know how hard it is to live like that all the time consistently and be fly every day?"
Johnson then reflected on the lifestyle of rappers, who are known for wearing big chains and driving fancy cars. According to the athlete, that way of life is "impossible" to maintain forever. He continued:
"People [on] social media [think] 'well if I spend this bag Imma just go make it back.' Nah, it ain't like you think and people think the cure and fix for the problem is 'well give me more money. I'm a be alright.' Well the more you make, the more you spend if you have no discipline and no structure."
He added:
"I done saved…83% of my salary. I don't need validation from nobody on the outside. That's another downfall, in society we always need validation and acceptance from others. Don't try to live a lifestyle you know you can't afford."
Check out the full interview below:
Johnson played 11 seasons in the National Football League (NFL) for the Cincinnati Bengals, New England Patriots, and the Miami Dolphins. He was drafted by the Cincinnati Bengals in the second round of the 2001 NFL Draft and played for the team for 10 seasons. In 2011, Johnson was traded to the New England Patriots, who he played with in the Super Bowl XLVI. In 2012, the father of nine played for the Miami Dolphins during the preseason but was released following his arrest for domestic violence.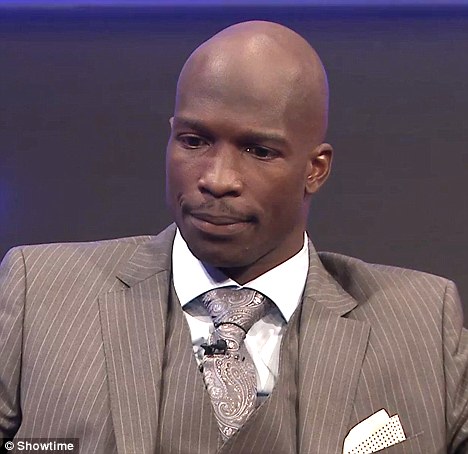 What are your thoughts on Chad Johnson's flying commercial and wearing fake jewelry during his time in the NFL? Tell us below.
[ad_2]

Source link